WHAT HAPPENS IF I LEAVE THE GAP BETWEEN MY TEETH WITHOUT ANY TREATMENT?
After the tooth is extracted, a space is left between the teeth. Over many years, without treatment, the following long term consequences usually occur:
The neighbouring teeth can start to tip or drift inwards towards the space. As this happens, food will get stuck under these teeth and it can be harder to clean.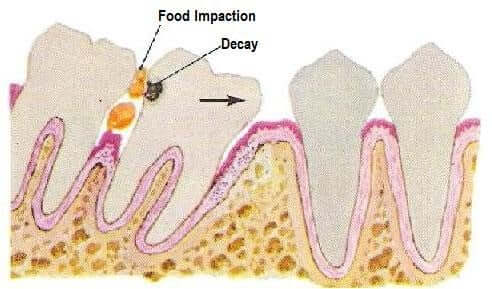 In most cases, the opposing tooth will also start to 'grow' or 'super-erupt' towards the space. Eventually, the tooth may end up loose, or biting on the gum opposite it, and may also need to be extracted.
The bone around where the tooth used to be will gradually become less dense and may sink downwards.
If the above occurs, additional, more complex treatment may be needed before we can replace the missing tooth.
Therefore, we always recommend that you consider all options carefully before you decide to extract your tooth.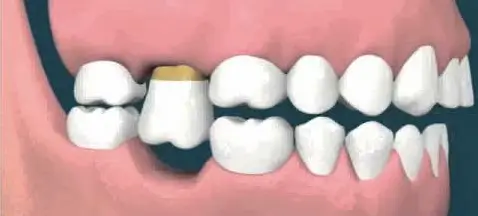 WHAT OPTIONS ARE THERE FOR REPLACING A MISSING TOOTH?
CROWNS AND BRIDGES
Bridges cover a gap between two teeth. It is made of 2 crowns on the supporting teeth and a prosthetic tooth suspended in the middle.
Patients who want to avoid surgery or who are unable to have dental implants usually opt for this option as it is a fixed option that is long lasting and natural looking.
Here at Dental Designs Clinic, we do most of our crowns and bridges in-house, using a 3D CAD-CAM system – CEREC Sirona. We customise each bridge to fit in harmoniously with your teeth.
WE PROVIDE SAME DAY CROWNS AND BRIDGES: With our in-house lab, we can provide crowns and bridges in just a single day, without the typical 2 week waiting period.
DENTAL IMPLANTS
A dental implant is a very small, but strong post which is inserted into the jaw bone in place of the missing tooth root. The implant fuses to, and becomes part of your jaw bone. One or more implants can be placed according to how many teeth you have lost.
The advantage of a dental implant is that it is an independent replacement tooth that is not joined to any neighbouring teeth. It is made of medical grade titanium and ceramic, making it biocompatible to your tissues.
Afraid of pain with implant surgery?
Want a faster implant surgery?
Through our Fully Digital Guided Implant Technique, we employ advanced 3D printing technology to create a personalised implant guide for you.
This approach ensures the precise and optimal placement of implants, resulting in faster, less painful surgery, along with superior outcomes compared to traditional freehand implant procedures, which are susceptible to inaccuracies.
REMOVABLE DENTURES
To replace multiple missing teeth, traditional removable dentures is a common option. These dentures consist of plastic teeth set in a pink acrylic base that conforms to your gums and any remaining natural teeth.
They are worn during the day, but have to be removed every night before sleep. Crafting a well-fitting set of dentures typically involves 4 or 5 visits as they are custom-moulded to your mouth.
It's important to note that with dentures, some degree of bone loss may continue to occur over time. Consequently, there may be a need for periodic adjustments or complete replacement of the dentures when they no longer fit properly.
Did You Know?
Dentures can also be supported with implants, to improve the stability and retention of the dentures.
Creating Smiles, Changing Lives
28 Overall reviews
The service and doctor is the best in town! The customer service and receptionists are very friendly! Dr Phillip Miller and Dr Noah Teo is very nice and very professional on their skill! They also very patient to explain to me about the treatment!
Will come back again!
Thank you very much!
Beautiful and friendly dental clinic, was recommended by my colleague. Been coming here for dental cleaning and fillings. Always a good visit!
This dental clinic has very good staff who are well trained and friendly. The dentists are also very good and will explain the treatment in detail before starting treatment. The equipment is very high tech and I believe they are able to do high quality work as I did my crown here and it looks much better than my colleague who also recently did his at another place. The waiting room is also very comfortable. good job!
This clinic is one of the best I have ever seen. I saw dr Justin for my implant which I did many years ago, the tooth was loose, and other drs told me to remove it as they could not find out what brand it was but dr Justin was able to take 3d xrays and locate the brand and specially ordered the part in. he saved me from having to do a surgery to remove and put a new implant which would have cost me a bomb. the tooth looks even better than the original thanks to the experieced dental technician Katsuya from Japan.
Very happy and will keep coming back for my regular dental.
my workplace is close by and I had a problem with my tooth for a few days, so I made an appointment to come down. The receptionist who booked my appointment was very helpful and friendly to explain the way to the clinic from my office. I saw Dr Nicholas who was able to do a root canal treatment on the same visit so that I didn't need to come back. I felt safe and comfortable to do my dental treatment here as the dental picks are all wrapped up and sterilized and only opened before each treatment when im inside.
I had an amazing experience at this dental clinic. Dr. Justin Giam is a skilled dentist who explained everything thoroughly. The staff was friendly, and the clinic is conveniently located near my workplace. Highly recommended!
I am so glad I found Dental Designs, it was recommended to me by an expat friend. Dr Rares is the best dentist I have ever encountered. He is extremely conscientious and empathic in his work, with a great attention to detail. His work is stellar, and he is always tuned in to the patient's needs. I have had multiple dentists in Oslo, Norway and in London, and although some of them have been excellent, I can truly say that not one of them has been of his caliber.
Great dental clinic! Dr Giam is very friend and his treatments are very gentle. He is good at explaining his treatment to his patients and a lot of great cafes nearby as well. Excellent customer service and helpful receptionist. Decent location too!
My dental implant procedure here was top-notch. Dr Justin did the surgery for me and he was skillful.The team was patient and made sure I felt relaxed throughout. They even sent me a message to check up on me for post-surgery care. Thank you!
Dr. Tiffany Tan did an excellent job with my Invisalign treatment. My teeth are now perfectly aligned, and it was a comfortable process from start to finish. The clinic's hygienist, Kelly, is fantastic as well!
I can't recommend this clinic enough, was so glad to have found it. Great facility, really enjoyed the ambience with radio music. But thats beside the point, Dr Tiffany is so terrific, they are so kind and really care about doing a good and meticulous job, and are so professional to share with me all x-rays of my teeth and explaining the issues and the process. I've never had any dentists that are so genuine and pro-active to help the patients be informed and understand the situations thoroughly. I feel very assured to be in such good hands. Thank you greatly!
I had a dental veneer procedure to fix my chipped front tooth, and the results exceeded my expectations. The clinic is conveniently close to my workplace, and the entire team was friendly and skilled. A great experience overall!
Dr. Justin Giam and his team are exceptional. I had a replacement for my dental crown, and they made sure I felt comfortable and relaxed throughout. The clinic is just a short walk from the MRT station.
I fell down and chipped my front teeth on holiday and came to doc Justin who is my usual dentist. he was able to fix it same day and by now I dont even remember which teeth was chipped. best doc in town!
I appreciate the professionalism and patience of the staff here. They did a fantastic job with my ceramic filling, which was much better shape and bite than the other one i had done previously at another clinic, and the clinic's location in the CBD is perfect for me.
The hygienist, Kelly, provided me with the best scaling and polishing I've ever had. The clinic is not only convenient but has friendly receptionists and great staff. I highly recommend it!
I have been coming to this dental clinic for years and I bring all my family and recommend to my colleagues to come as well, because they are just so good. Especially Dr Justin Giam, he is very skilled in crowns and veneers for me. My father's implant denture was able to be done smoothly, which was important because we have to fly in to Singapore to come for the dental treatment, so it saves us so much time here. The assistant doctors are also good to do the usual fillings and cleanings without any pain. The receptionists are friendly and helpful for making the appointment a pleasant one. Very good job dental design!
I needed replacement retainers, and I found that dental designs provide clear retainers with same day pickup. its convienent as its close to my office and I could go out for a coffee while waiting.
My tooth has been hurting on and off for the past months and I ignored it as I was busy. i went to the dentist near my house and was told to extract it and do an implant as it was decayed and the cavity was too big. I didnt want to extract my tooth so i looked for other options and found Dental Designs where I was able to be seen and my tooth could have a root canal treatment and crown done instead of extraction. the tooth is functioning well and I can bite normally, there was no downtime. i strongly recommend Dental Designs as the dentist here is much more skillful and knowledgeable and the receptiontists are also very friendly.
I did a whitening procedure here in the clinic and had good results, my friends commented it was much whiter and I'm happy with the results. there is a little sensitivity but it goes away after one day. highly recommend this clinic if you are looking for a dentist to do teeth whitening. the cleaning was also very comfortable and i didnt feel any pain or bleeding.
I read about Dental Designs as I wanted to do Invisalign treatment for a long time, and I chose Dr Tiffany Tan as she has good reviews. During the first consultation, she took time to listen to my concerns and also explained various options for me to suit my needs. There was also no hard selling even though I could not decide to do the treatment on the same day, the staff was also all smiles and very helpful. I came back again with my wife and Dr Tiffany was very patient in explaining my condition and the treatment options again, thus I decided to go with them. I completed my Invisalign treatment after about 18 months and the results are just as what Dr Tiffany promised. All my colleagues and friends are able to see the difference, I had an underbite which is completely resolved. The whole process was very smooth and the whole team was just so helpful and responsive throughout. Kudos to Dental Designs and Dr Tiffany Tan!
The dentists here are very skillful and do a good job, the staff is also very friendly and its easy to book appointments over whatsapp. I recently had to do a root canal and dental crowning for my tooth and the process was easy.
Best experience I ever had at a dental clinic or medical clinic for that matter. I've been to many clinics in UK and Sydney and none of them are as good as Dr Tiffany. I have been using a specially prescribed mouthguard at night which cost me close to 3000 AUD from a specialist in Melbourne as otherwise I would have jaw pain when I woke up in the mornings. I went to a consultation with Dr Tiffany Tan as I wanted to straighten my front teeth which had shifted a little over the years. Dr Tiffany was able to assess not only that my teeth could be straightened but that the bite was all wrong. I started on Invisalign treatment with her and 2 years later I am able to chew steak and peanuts without wincing, and I do not need the special mouthguard at all. Thanks to Dr Tiffany, I now have a normal life without pain and trust me it is unbelievable how much my bite affected my life prior to my Invisalign treatment. Thank you Dr Tiffany and the Dental Designs clinic team, you guys are amazing!
I saw Dr Justin to fix my teeth veneers which I had (stupidly) done at a dentist in Thailand as my friend brought me there during a holiday. He was able to check it and advise that my gums were badly infected due to the poor veneers which they did, which was causing a bad smell in my mouth. Dr Justin had to remove all the veneers and the hygienist Ms Kelly is also really gentle and I had the best clean in my life here with the air cleaning. Dr Justin was then able to give me new veneers which are properly fitted and which looked so natural compared to the other ones that were done and I feel like they are my real teeth. There is no more bad smell and my teeth and gums are healthy now!
Firstly, I want to commend the dentist here Dr Justin as he is skilled in his work and delivers what he promises.
Additionally, I am seen within 15 minutes each time I come for my appointment, which is not the case when I attend other medical appointments in Singapore.
The staff are also excellent.
Visited this clinic for the first time today after reading all the reviews. Indeed a dental clinic with very good service. The receptionist was very friendly. My appointment was at 12pm and I saw Dr Justin at 12pm without any delay. He was very professional with his work and casual when talking. Made me feel comfortable. Took pics of my teeth to tell me what is wrong and what needs to be done. Not pushy at all asking me to do this and that. Price is pretty reasonable for where they are located. Thanks for the great service!
Popped into Dental Designs on Cecil street for the first time a couple of weeks ago and then a filling just yesterday. Staff are highly professional, from the front desk to the doctor and dental assistant.
Dr Peter Tang is fantastic at what he does. Really good bedside manners, explains the procedure in great detail to make sure I know what is going to be done and also removed my fear of having my teeth cleaned. Will definitely make this place my regular go-to for all dental matters!
Cara kerja Sangat bagus dan terjamin
Get in Touch
We'd love to hear from you!