Have you ever looked at a picture of a Hollywood star and thought to yourself, "I wish I had teeth like that."
Well, your dream of having straight, healthy pearly whites is possible – dentistry has come a long way in helping us to achieve that. This comes in the form of dental veneers.
Studies have shown that the use of dental veneers, especially at the front of the mouth, have become increasingly popular due to its reliability and compatibility1.
Are dental veneers the right fit for you, what goes behind their price tag, are there subsidies for dental veneers in Singapore? Let's find out.
What are dental veneers?
Dental veneers are thin shells made of either porcelain/ceramic or resin composite materials, which are cemented to your natural teeth to improve its appearance. Aesthetics aside, veneers can also protect your teeth from damage.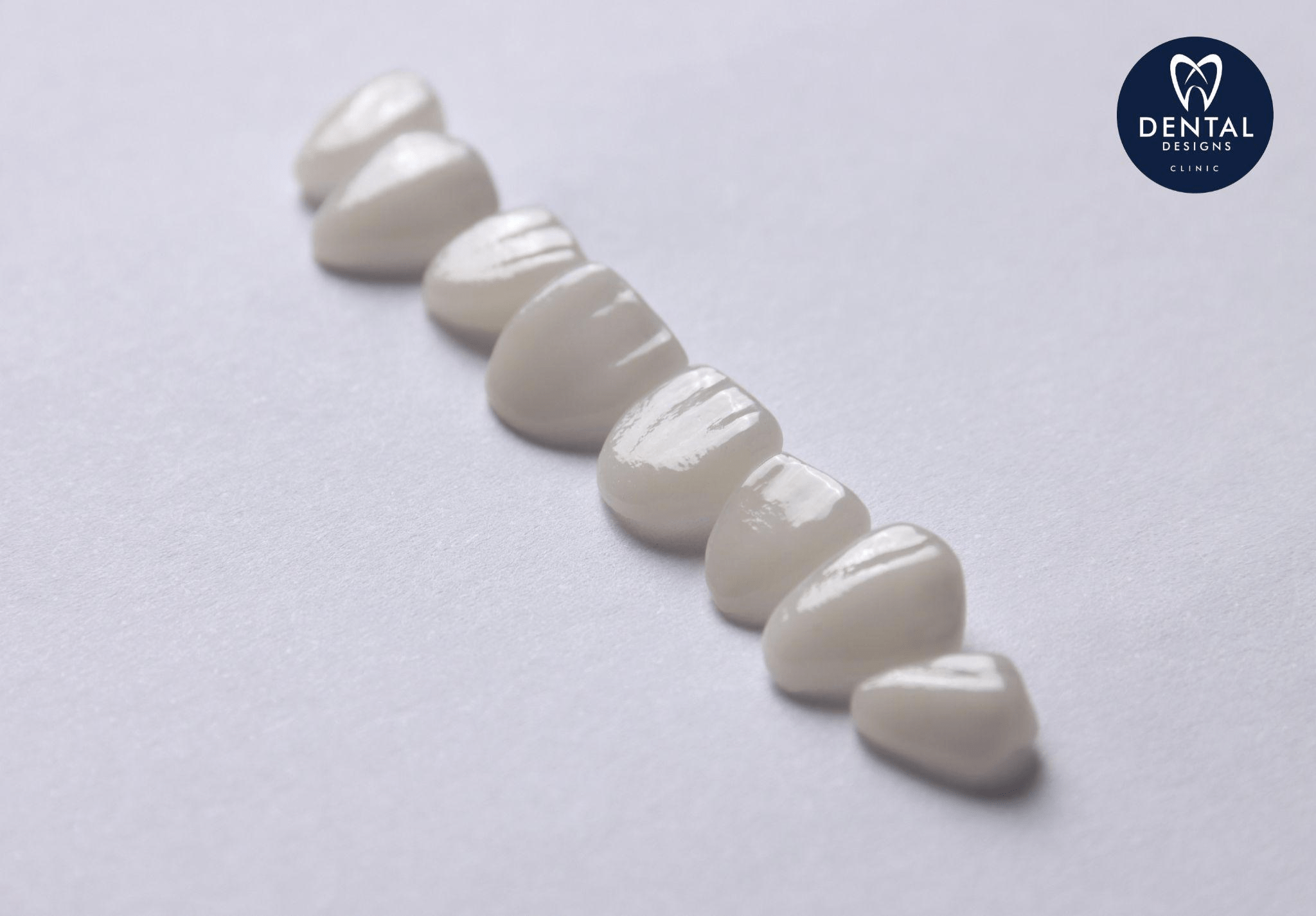 If this procedure is suitable for you, you can have your perfect smile made in just a few days, lasting anywhere from 10-15 years.
There are two main types of dental veneers available: porcelain/ceramic veneers and composite resin veneers.
Porcelain/ceramic veneers

As its name suggests, porcelain veneers are made of porcelain, and they are permanently adhered to your natural teeth.

These types of veneers are the more popular choice as they are stain-resistant, and they are also able to replicate the light reflecting properties of natural teeth2. Therefore, they look as close to natural teeth than any other materials.

Porcelain/Ceramic Veneers are also much more stronger so are more resistant to breakage and fractures.

They have a high longevity of 10-30 years.

Composite resin veneers

Made from composite resin or dental plastics, there are two main types of composite resin veneers: direct composite resin veneers and indirect composite resin veneers.

Direct composite resin veneers are cemented to your natural teeth, while indirect composite resin veneers are customised and made in a laboratory before they are fit onto your teeth.

Resin Composite material tend to degrade over time which leads to the material looking dull or even discolour.

Both types of composite resin veneers are reversible and so are a popular choice for individuals who wish to maintain the original structure of their natural tooth3. Do note that removal of these composite materials can slightly damage the surface of your natural teeth.

They have a longevity of 5-7 years before they start to decline in aesthetics.
Am I a suitable candidate for dental veneers?
Dental veneers can be used to cover up a multitude of issues, allowing you to have a superstar smile. In Singapore, veneers are usually used for the following issues:
Discoloured or stained teeth that cannot be whitened by conventional

teeth whitening

Slightly misaligned teeth
Fractured, worn, or broken teeth
Different sized teeth
Small gaps between teeth

Tooth discoloured by

root canal treatment
Overall, they are a good option as they are long-lasting and provide good aesthetic outcomes4.
While some individuals are well-suited for dental veneers, there are some who are not a good match. If you have the following issues, you may not be a good candidate for dental veneers:
Poor oral hygiene, such as gum disease
High Tooth decay risk
Grinding your teeth (bruxism)

This however, can be mitigated by wearing a nightguard to reduce grinding forces while asleep.

Cracked teeth that need stronger support such as

dental crowns

and

dental implants

Crooked teeth (these need to be corrected before dental veneers can be considered)

In slightly malaligned teeth, dental veneers can be used to straighten teeth and give a more uniform smile. However, in severely crooked teeth, veneers might be too damaging to your teeth due to an increase in the amount of tooth structure needed to be removed. Therefore, in these situations, we usually suggest straightening your teeth first (such as

Invisalign

or

braces

) prior to dental veneers being done.
More on this topic:
Process of getting dental veneers in Singapore
Consultation
After a thorough examination (to ensure that there are no underlying issues), 3D scans and x-rays are conducted to help in the creation of your new smile
Together with your dentist, you will decide on the best type, shape, and shade of veneer
This initial consultation is very important as our dentists work to understand your preferences and concerns.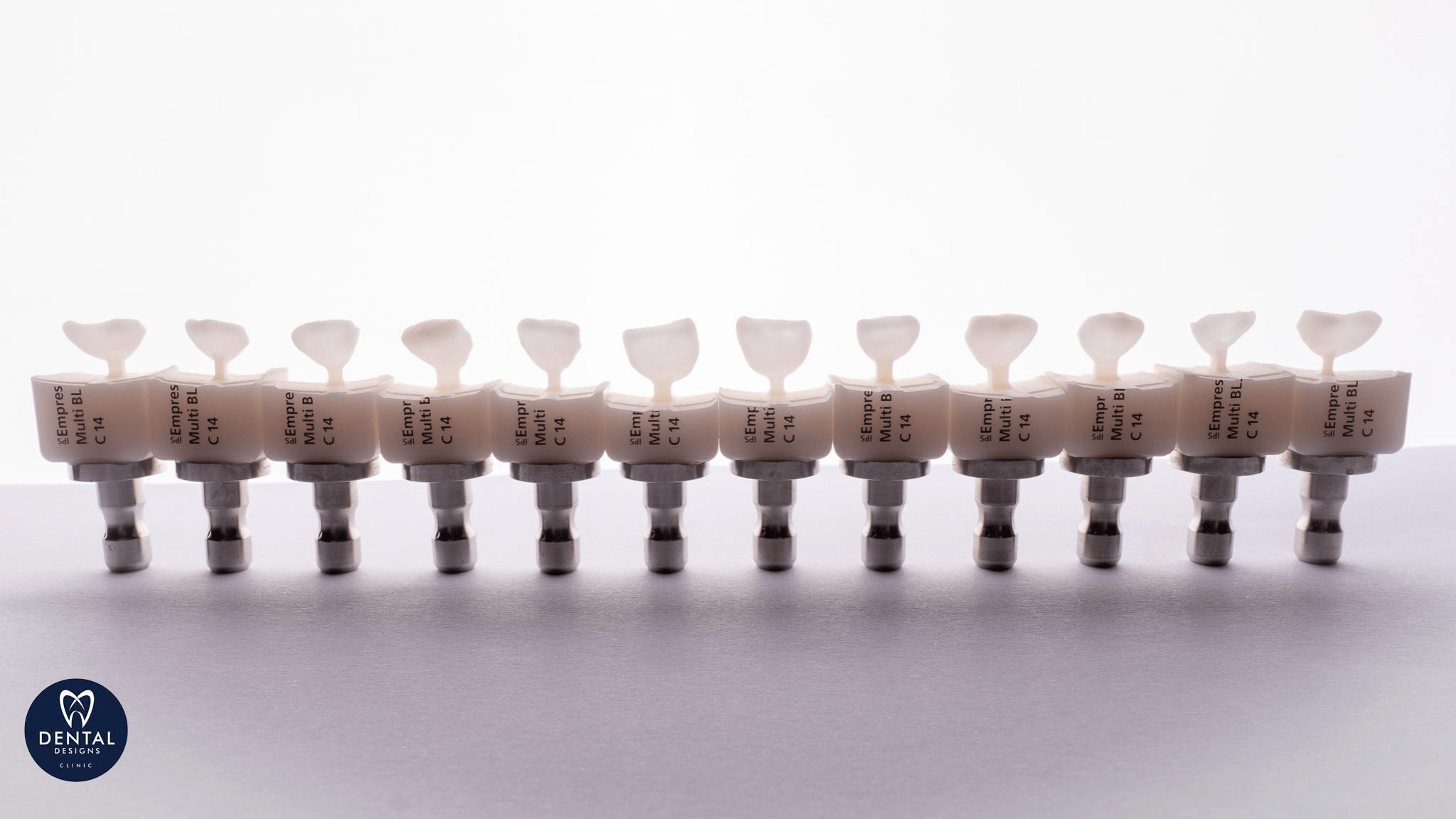 Preparation
Your teeth are filed down to accommodate the thickness of the veneers
A 3D mold is made of your teeth as it is more accurate and less time consuming
Some patients may not require their teeth to be filed down as they are suitable for no-prep veneers; no-prep veneers allow for the porcelain to be bonded directly onto the teeth
Smile trial
A temporary set of veneers are made as a practice run to see if it suits your expectations and face
After a week with your temporary veneers, you will provide feedback and if only minor changes are required, then we can continue with bonding your permanent veneers
If major changes are required, another set of temporary veneers will be made
This process repeats until you are satisfied with your new veneers
Bonding of veneers
Your permanent veneers are ready but before they are bonded, you will try them on to make sure you are satisfied
Once you are happy, the permanent veneers are bonded to your teeth
Review
After a week, we will review your bite, stability of your veneers, and check on how comfortable you are with your new veneers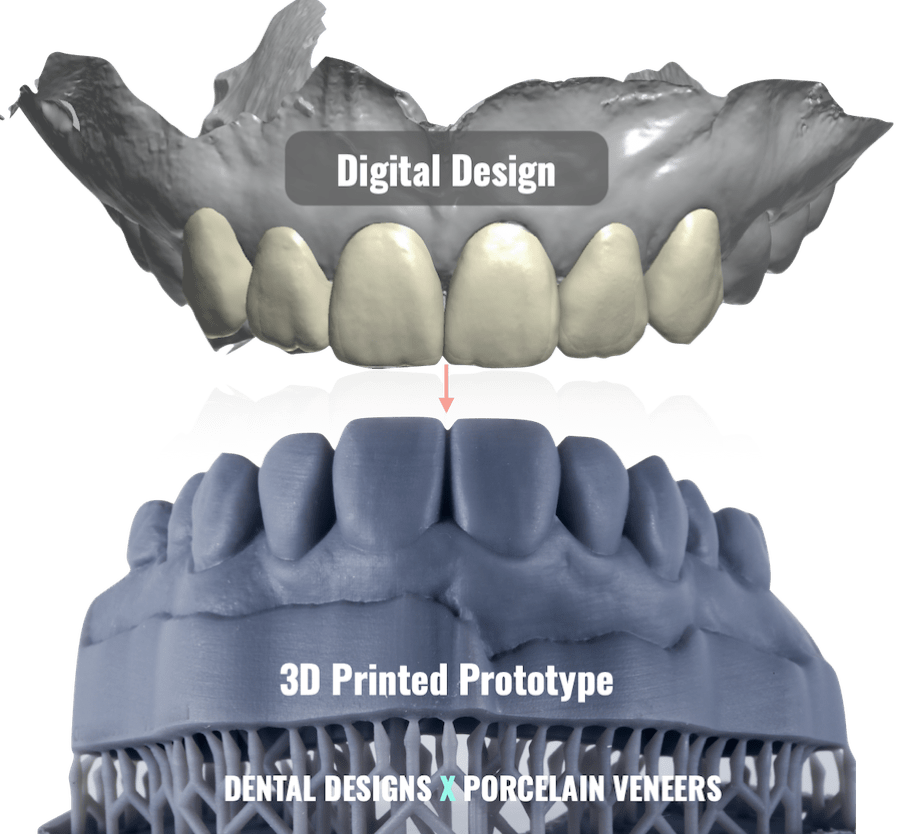 Are dental veneers any good?
As with all procedures, it is important to know the pros and cons so you can make an informed decision.
It is important to note that the amount of tooth structure needed to be reduced is dependent on a number of factors. These factors include:/p>
The underlying tooth colour that we need to mask and the desired final tooth colour
The position of your tooth in relation to your desired smile curve,
The quality of tooth structure present
The presence of tooth decay or dental fillings
The need for additional lip support
The material properties such as the minimum thickness requirements
Therefore, porcelain and composite resin veneers can actually result in the same amount of tooth reduction. However, composite resin veneers tend to require less tooth trimmings as they can be directly pasted on teeth. This advantage is somewhat neutralised due to the shorter longevity of resin composite as replacing them would require the dentist to grind them out (inadvertently removing tooth structure) before placing a new composite resin veneer.
Should there be excessive tooth reduction, it may cause teeth to be sensitive and may lead to root canal treatment in very severe cases. This is extremely rare.
Porcelain veneers
Composite resin veneers
Pros:

Stain resistant
Natural looking; catches light similarly to the way a natural tooth does
Usually lasts for 10 to 15 years. Studies have shown that porcelain veneers can even last more than 30 years!
Durable
Aesthetics remain great for throughout the years
Reinforces tooth structure in broken down teeth
Textures on the veneers are very similar to natural teeth
Good gum health due to excellent fitting

Pros:

Reversible
Does not require too much alteration of your natural teeth
Can be repaired if chipped or damaged
If well-maintained, can last for 4 to 8 years

Cons:

If damaged or chipped, they must be replaced as they cannot be repaired
Costly
Longer process than composite resin veneers

Cons:

Can be stained like your natural teeth
Not as durable as porcelain veneers
Looks dull over time which might require replacement, repolishing or repairing
Composite Resin Veneers might not fit your tooth well - resulting in poor gum health
How much do veneers cost in Singapore?
| | |
| --- | --- |
| Types of veneers | Cost (per tooth) |
| Porcelain veneers | $900-$2000 |
| Composite resin veneers | $150-$800 |
*These are rough ballpark figures, prices vary depending on complexity. Please speak to our friendly staff for more information.
What affects the cost of dental veneers?
Ultimately, how much you pay for your veneers will depend on:
The complexity of your condition
Before you can be considered for dental veneers, your mouth and teeth will be examined to check for any underlying problems – if you do have some issues, they will have to be treated first before your veneers can be fitted.
The material of your veneer
Porcelain veneers will cost more than composite veneers. However, keep in mind that porcelain veneers last significantly longer and look the closest to natural teeth.
The clinic you go to
The cost of getting veneers fitted may vary across clinics, depending on factors like the dentist's credentials, experience and clinic's waiting time. Considering veneers are an aesthetic procedure that requires a skilled dentist, cutting corners by choosing a cheaper provider may not be the best option. Keep in mind the performing dentist's track record and always ask for before/after photos.
Are dental veneers Medisave claimable?
Dental veneers are not Medisave claimable as only dental work that requires surgery can be claimed from your Medisave.
Are there cheaper alternatives to veneers?
If veneers are too expensive for you, depending on your goals and condition, you may consider alternatives like teeth whitening or Invisalign.
Many patients have described veneers to be "worth it" and that the benefits greatly outweigh the costs – one huge benefit being veneers significantly improves the appearance of your teeth, and consequently your self-confidence and quality of life.
On top of that, veneers can last at least 10 years – this reduces the hassle of getting frequent dental work done.
Consider veneers a long term investment in your smile. Any questions? Please drop us a message!
References
Dental veneers. (2020, July 20). Retrieved from WebMD:

https://www.webmd.com/oral-health/guide/veneers#1

El-Mowafy, O., El-Aawar, N., & El-Mowafy, N. (2018). Porcelain veneers: An update. Dental and medical problems, 55(2), 207–211.

https://doi.org/10.17219/dmp/90729

Nalbandian, S., & Millar, B. J. (2009). The effect of veneers on cosmetic improvement. British dental journal, 207(2), E3–73.

https://doi.org/10.1038/sj.bdj.2009.609

Alothman, Y., & Bamasoud, M. S. (2018). The Success of Dental Veneers According To Preparation Design and Material Type. Open access Macedonian journal of medical sciences, 6(12), 2402–2408.

https://doi.org/10.3889/oamjms.2018.353